2017 Maserati Levante Dealer | Jim Butler Maserati | St. Louis Maserati Dealer - Jim Butler Maserati

Maserati Levante: The Maserati of SUVs.
From mild to gale force strength. In an instant. Like the Mediterranean wind it was named after, the Levante was engineered to master any situation effortlessly. The Maserati Levante is in its element everywhere, inspiring your driving experience with its precise handling and inspirational performance. Its elegant surfaces, spacious leather seats, intuitive on-board controls and exceptional engineering creates a whole new class of SUV.
High-specification features for new heights of luxury. Luxurious and adventurous, the Levante provides the highest levels of comfort whilst delivering outstanding performance even in the most extreme conditions. There's no shortage of space or performance either. All versions come with an eight-speed gearbox, Maserati's sophisticated intelligent Q4 AWD and a torque vectoring system for a truly exhilarating drive. Maserati's unmistakable design is showcased beautifully in the sleek, sporty silhouette that features three iconic eye-catching air vents on the front wings. The assertive style of the front grille references the great sporting Maseratis of the past, and features the legendary Trident badge the ultimate symbol of exclusivity, refinement and elegance.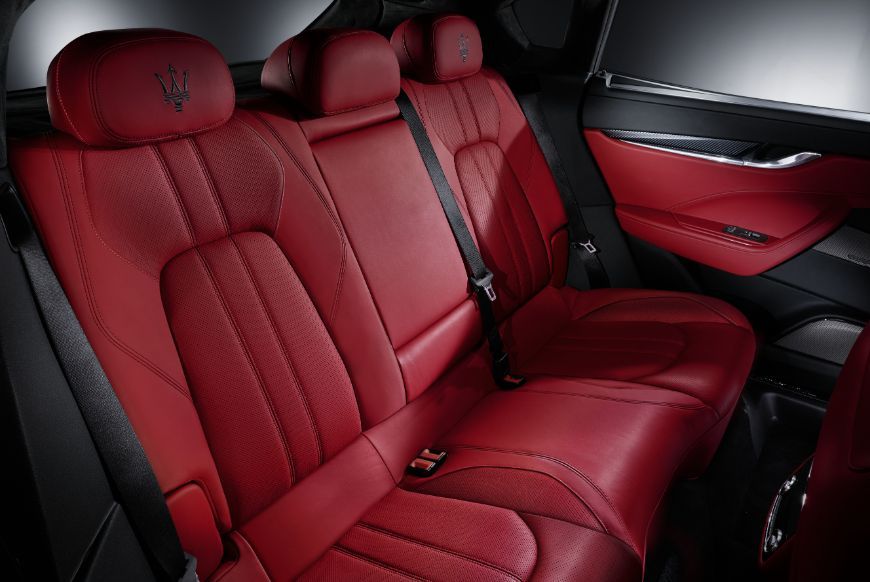 |

Levante : Pedigree, based on a true story
The Levante is an SUV like no other, embodying the passion, the sophisticated engineering and exclusivity that have distinguished every vehicle engineered and crafted by Maserati in the heart of Italy since it was founded in 1914. Ready for whatever lies ahead, Levante dominates even in the most formidable terrain or weather condition, to bring you where you want to be and doing what you want to do.
Providing unparalleled style and comfort, whatever the terrain. Stunning style, inside, as well as outside. Extra-spacious interiors and superbly ergonomic front seats envelop their occupants, providing excellent support, regardless of the terrain. Passengers in the rear benefit from an asymmetrically split, leather bench seat that comfortably accomodates up to three people.
The Maserati Touch Control 8.4" screen provides effortless control over the on-board equipment and features. Fine-tuning the climate control, accessing iPhone or Android smartphones, setting a route on the sat nav, or selecting the perfect soundtrack for your journey are only a tap away. And by using the Aux-in and USB sockets or the SD card reader, the MTC can play music, films or display images.
Powered for performance. The Levante is a genuine SUV that performs under pressure and responds to your every need. Innovative, cutting-edge technology and engineering sophistication are the cornerstones of the outstanding 3.0 Twin Turbo V6 petrol engine, delivering incredible levels of performance, while providing reduced fuel consumption and CO2 emissions.
The spacious interior features impressively high-grade materials and stylish details. Ergonomic front seats envelop their occupants, providing excellent support, regardless of the terrain.
All versions include all the high-specification features you would expect, along with optional items that will enhance the driving experience. These include premium sound systems created in association with Bowers & Wilkins or Harman Kardon, and the world's most stylish car interior, designed by the renowned fashion house of Ermenegildo Zegna.
Ermenegildo Zegna, one of world's leading designers, has partnered with Maserati to further enrich the Levante experience. As an additional option, the finest leather is combined with natural fibre Zegna Mulberry Silk inserts on the seats, door panels, roof lining, sunshades and ceiling light fixture. The Silk is embellished with a hand-stitched macro chevron. Seating features a central silk insert with a microchevron weave. Door panels, roof lining and sunshades are covered with Zegna silk jersey.
Advanced safety features include six dual-stage airbags, active headrests and a tyre pressure monitoring system, as well as 'active' safety technology designed to help prevent collisions, including Adaptive Cruise Control, Blind Spot Alert, Rear Cross Path detection, and Lane Departure and Forward Collision warning systems.
Jim Butler Maserati wants you to make your Maserati purchase with confidence. We strive to provide the same quality, care and service that these hand-made masterpieces undergo in Italy. We also invite you to come by the Maseratis' current home at our auto plaza located at 9900 Watson Rd. in Crestwood, Mo. — and look for Jim Butler's all-new Maserati dealership in 2017 in the Brentwood/Clayton area.

Jim Butler Maserati is a St. Louis Maserati Dealership located at 3050 S Hanley Rd, Maplewood, MO 63143 serving Kirkwood and St. Louis, Missouri. Our new vehicle line-up includes: Maserati Ghibli, Maserati GranTurismo, Maserati Levante, Maserati Quattroporte. We buy and sell quality pre-owned vehicles and offer a nice selection of used cars, trucks, SUVs, CUVs and vans. Our parts & accessories center sells Maserati parts and accessories. Jim Butler Maserati can service and repair all Maserati models as well as most other brands of cars.
Please note:
Many of our inventory photos are stock photography. Actual colors, options and accessories may differ on the specific vehicle you have selected.