2017 Maserati Ghibli Dealer | Jim Butler Maserati | St. Louis Maserati Dealer - Jim Butler Maserati

Maserati Ghibli: The absolute opposite of ordinary
A masterful combination of style, power, sporty handling and comfort. The new Ghibli encapsulates the very soul of Maserati. The Maserati Ghibli is a supreme example of Italian design, combining sleek, sporty contours with expert engineering prowess. It also offers levels of luxury for which Maserati is world renowned.
|

Ghibli: The very definition of excitement

The Ghibli is a car that was born to inspire and exhilarate, with clean lines and sculpted forms that capture the eye and captivate the imagination. Its long bonnet implies a powerful engine beneath, whilst the front grille and classic Trident badge instantly announce it to be a Maserati.
The Ghibli boasts the very highest levels of agility - a car that instantly responds to the driver's every command. From the eight-speed ZF transmission to the Twin Turbo V6 engines, every aspect of this exceptional Maserati has been crafted and engineered to maximise performance and driving enjoyment.
High-tech, high-spec features for new heights of luxury. Alongside the Ghibli's high levels of standard specification, there is a wide array of optional extras. These include premium sound systems, created in association with Bowers & Wilkins or Harman Kardon, and the world's most stylish car interior, designed by the renowned fashion house of Ermenegildo Zegna.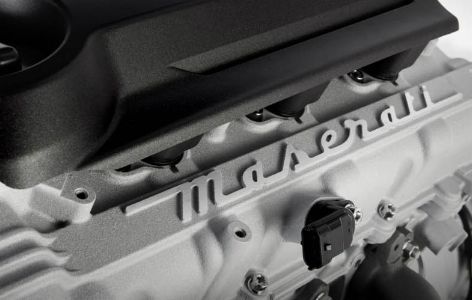 A choice of two twin turbo V6 petrol engines and a 3 litre V6 Turbo diesel. Engineered for the ultimate in driving pleasure, the Maserati Ghibli is available with two 3 litre twin turbo V6 petrol engines delivering either 330 HP or 410 HP and a 3 litre diesel that produces 275 HP and 250 HP for selected markets. All three guarantee low fuel consumption, impressive torque, and uncompromising high performance.
To ensure that its looks match its performance, there are numerous distinctive elements, like the radiator grille converging with the striking LED headlights, twin exhaust tailpipes, and a wide selection of eye-catching wheels.
|

Ghibli: A new concept in personalization for the sports sedan segment
The Ghibli is a car that places no limits on its driver's desires and preferences, revolutionising the concept of customisation in the sports sedan segment. The leather, available in three colours, is used on the front and rear seats as standard, but can also be extended to the side areas above the dashboard, the instrument panel brow and the door armrests to create an original two-tone combination.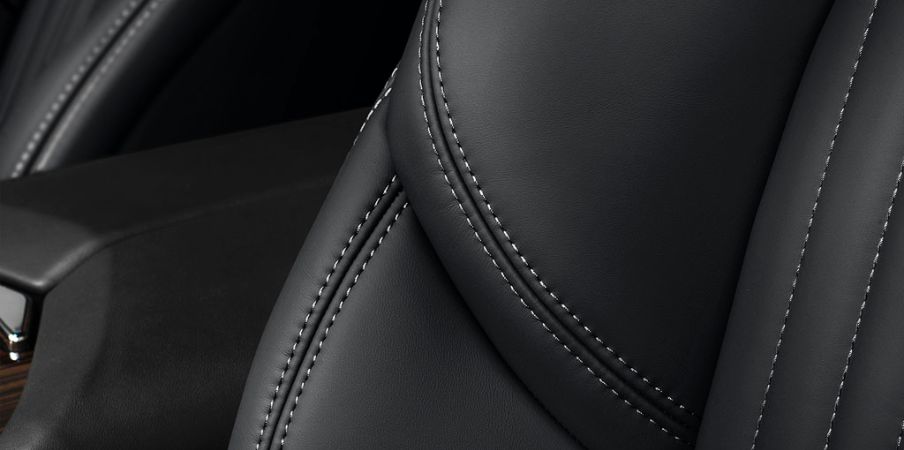 When sat in the driving seat of the Ghibli, you'll feel in total control: the ergonomic three-spoke leather-clad steering-wheel with controls for interacting with the main multimedia functions frames a simple but striking instrument panel. The large speedometer and rev-counter have elegant white backlighting and are separated by a 7" TFT display that shows the car's dynamic data.
For music connoisseurs seeking more power, more dynamism, and an extra dimension of emotional realism, the optional Harman Kardon Premium Sound System brings new levels of audio refinement to the Maserati Ghibli. With ten high-powered speakers carefully positioned throughout the cabin, the system produces 360 degrees of sublime sound reproduction whatever the listener's seating position. A special high-performance subwoofer handles the low-end frequencies with ease, whilst the mid-range drivers and tweeters ensure that every instrument makes its presence felt on this virtual concert platform.
Unique style and comfort for your everyday driving experience. The accessories designed for the Maserati Ghibli allow you to fully enjoy your vehicle in every situation and over time. Each individual component has been conceived with the aim of increasing safety, comfort and driving pleasure, boosting the performing soul of the Ghibli. The Maserati Ghibli offers next-generation safety features to protect all on board. Seven airbags help shield the occupants from impacts, whilst the front seats feature active headrests. Helping to prevent accidents is the Maserati Stability Programme, along with a wide range of other driver aids and warning sensors.
Jim Butler Maserati wants you to make your Maserati purchase with confidence. We strive to provide the same quality, care and service that these hand-made masterpieces undergo in Italy. We also invite you to come by the Maseratis' current home at our auto plaza located at 9900 Watson Rd. in Crestwood, Mo. — and look for Jim Butler's all-new Maserati dealership in 2017 in the Brentwood/Clayton area.
Jim Butler Maserati is a St. Louis Maserati Dealership located at 3050 S Hanley Rd, Maplewood, MO 63143 serving Kirkwood and St. Louis, Missouri. Our new vehicle line-up includes: Maserati Ghibli, Maserati GranTurismo, Maserati Levante, Maserati Quattroporte. We buy and sell quality pre-owned vehicles and offer a nice selection of used cars, trucks, SUVs, CUVs and vans. Our parts & accessories center sells Maserati parts and accessories. Jim Butler Maserati can service and repair all Maserati models as well as most other brands of cars.
Please note:
Many of our inventory photos are stock photography. Actual colors, options and accessories may differ on the specific vehicle you have selected.
Sales Hours
(855) 575-8892
| | |
| --- | --- |
| Monday | 9:00 am - 8:00 pm |
| Tuesday | 9:00 am - 6:00 pm |
| Wednesday | 9:00 am - 8:00 pm |
| Thursday | 9:00 am - 6:00 pm |
| Friday | 9:00 am - 8:00 pm |
| Saturday | 9:00 am - 6:00 pm |
| Sunday | Closed |
Service Hours
(314) 376-2911
| | |
| --- | --- |
| Monday | 8:00 am - 5:00 pm |
| Tuesday | 8:00 am - 5:00 pm |
| Wednesday | 8:00 am - 5:00 pm |
| Thursday | 8:00 am - 5:00 pm |
| Friday | 8:00 am - 5:00 pm |
| Saturday | Closed |
| Sunday | Closed |
Parts Hours
(314) 376-2911
| | |
| --- | --- |
| Monday | 8:00 am - 5:00 pm |
| Tuesday | 8:00 am - 5:00 pm |
| Wednesday | 8:00 am - 5:00 pm |
| Thursday | 8:00 am - 5:00 pm |
| Friday | 8:00 am - 5:00 pm |
| Saturday | Closed |
| Sunday | Closed |