Jim Butler Maserati Blog - Jim Butler Maserati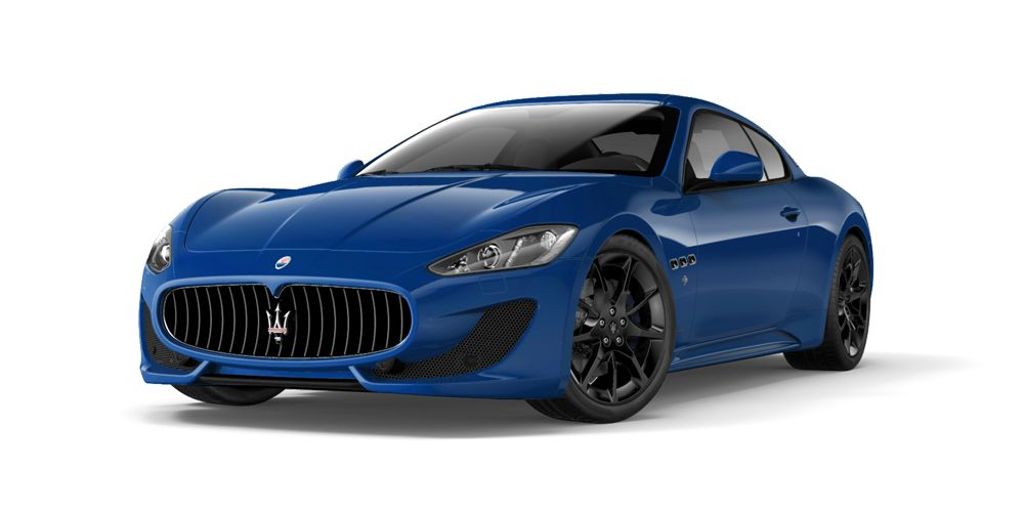 At some point in time, the legendary GranTurismo is going to be completely replaced, but in the meantime, a few choice adjustments were made for this fall's arrival. Slimming down the vehicle a bit was the name of the game, and the 4.2-liter engine has been swapped with the 4.7-litre V8. Impeccably created within the throngs of the Ferrari camp, it has the snarl and bite to make any serious high-powered roadster/ sport coupe fan tremble with excitement. The infotainment system from the Levante SUV has been provided as a replacement, with audio controls, navigation, and other dire necessities sensibly placed.
You now also get the 8.4" touchscreen infotainment display, which allows for smartphone mirroring through AppleCarPlay, and Android Auto. The Harman Kardon sound system creates its sonic boom factor with ten very awesome and able speakers, and the simple but timeless touch of an analog clock on the dashboard provides a sense of practical, refined utility. Fitted bumpers at both ends are a few of the other additions to the GranTurismo, and the rear has been changed up quite a bit to add to the visual appeal. Some critics and everyday drivers out there in the auto world will bash the fact that the GranTurismo does not have keyless start, a futuristic feature that some of its competitors flaunt.
After checking around with some of the dashboard curators we know on the inside, the most exciting thing about this final stand of a classic is its engine. Product planner Enrico Billi deemed it "one of the last naturally aspirated, high-rev V8's", and together with the very well-developed power train and chassis, this car makes for pure pleasure in the impromptu cruise department. Production for what is eventually gearing towards the "final lap" for this vehicle began in June of this year, and many connoisseurs are probably not going to be able to feign their excitement.
As the various tides in the world of automotive manufacturing and sales ebb and flow, one thing is for sure: electric vehicles have a strong stake on the horizon, even if some out there are questioning their vitality and worth. Fiat CEO Sergio Marchionne says that the brand plans to produce electric vehicles before the end of the decade, which could pit the brand head-to-head against Maserati within ten years. This year, a few scandals emerged within the current diesel offerings, and once costs come down a little, will be even more feasible for the Alfa namesake. For now, we must admit we love the rip curl under the hood minus electric, and will savor it until the larger-than-average lady calls the curtain for good.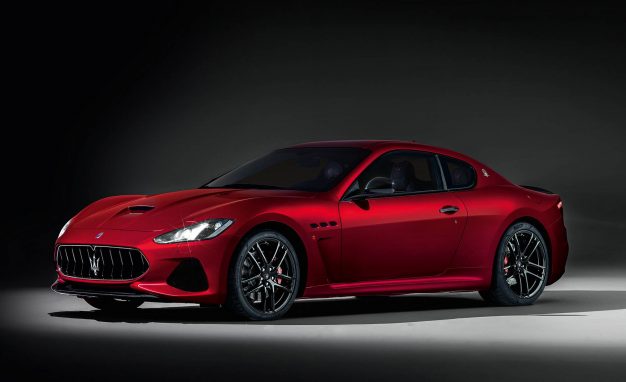 It was ten years ago when Maserati first released the GranTurismo, and many drivers who love a high-octane combination of luxury and speed have been urgently waiting for a few changes. Here in St. Louis and across the entire globe, drivers were excited by the promise of the Alfieri, and still were held tepidly at bay with steady additions of power to the GranTurismo throughout the years. There was recently a model put on display at the Stock Exchange that was the higher-performance MC Stradale, which will ultimately be accompanied by a heavier Sport model.
All GranTurismo models feature the last living workhorse of the deeply natural rooted Ferrari-Maserati V-8, which churns out 460 horsepower at 7000 RPM, and 383 lb-ft of torque at 4750 RPM. If you've been intently watching the luxurious sports-car offerings and are concerned with the topic of transmission, you know that the GranTurismo is going to come with a six-speed XF unit that is bolted directly to the engine in unique fashion, whereas the previous versions sported the optional MC Shift single-clutch automated transaxle means of getting the gear. None of this is anything to have a shard of worry about, because the Maserati namesake is one that will carry you the way you'd expect from an Italian-crafted beauty, and the available gears are enough for you to command the pavement haplessly.
The nose of the car was inspired by the Alfieri itself, and features a hexagonal grille with gaping cheek ducts. This provides a much more restrained view than models before it, and ultimately helps to reduce the CD from .33 to .32. You'll see a brand new rear bumper on the new GranTurismo, and teh well-meaning but racily-behaving Sport couple will reach 62 mph in 4.8 seconds, and top out at around 186 mph. You can also expect to experience the ultimate in comfort with four seats that are upholstered in Potrana Frau Leather, with a tempting option to add an Alcantara-and-leather interior. This product line has some of the most exhaustive quality standards in the industry, ultimately engineered to prevent surface scratches from revealing the lining underneath.
Inside the GT is a revised infotainment system, with an 8.4" touchscreen, offering options such as Apple CarPlay and Android auto functinality as well as a Harman/Kardon Sound System to provide the tuneage while you reach a bit-more-than-satisfying speeds. The 8.4 inch touchscreen is a nice kiss of high-tech device goods, but we daresay that the sentiment of this roaring beauty is not quite the same as the confines of a minivan, and you're going to want plenty of time to kick back and enjoy just how incredible the St. Louis metro area roads are going to become without intrusion from media.
The GranTurismo is a true legend in existence; and Intalian V-8 that can take corners like nobody's business, and remind you of how true exclusivity can give you an instant smile. Come see us on the lot right here in St. Louis, and get ready to revel in how amazing the modifications on this prized jewel are: it's an automobile that you can really savor every dip in the road with, and feel like no less than royalty in. Why skimp on any single detail as far as your driving persona? There are only a few wonderful cars out there such as the GranTurismo that command your well-esteemed attention.
A large number of SUV and high-end auto enthusiasts were long awaiting the time when the two categories would collide, and Maserati recently completed this task after 102 years of quality and honor. Last month, the brand we are consistently pleased to provide and service received an award from WardsAuto for possessing one of the "10 Best Interiors" in the entire array of vehicles available for the year. 31 different interiors were eligible for the list, which is currently in its 7th year. The list focuses on the vehicle's usage of materials, ergonomics, and user-friendly ability of electronic features.
Nominees for the list were selected from choices that were all-new for the model year, and choices that had elements that had lately been greatly improved. This and many other forms of praise have been given to the Levante, which is a 100-percent made-in-Italy auto, known worldwide for jaw-dropping performance, and amenities behind the wheel that are very luxurious. Once you lay eyes on the interior, you notice horizontal tension lines, and the sense that this is the vehicle to let you embark on your journey as if you were traveling in a luxurious lounge. This has taken much effort and labor to accomplish: for decades, spaces within cars were only known as a temporary destination capsule, and did not provide much of a sanctuary.
The staff here at Jim Butler Maserati can show you how to get even more enjoyment out of your new purchase with the Zegna Luxury Package: here you get to really roll out the good stuff with premium Italian leather, which contains bespoke silk from Ermengildo Zegna. Founded in 1910, they are a premium brand who has had a hand in manufacturing suits for Gucci and Yves Saint Laurent, and claim the namesake to the largest menswear brand in the world defined by sheer revenue. All versions of the Levante come with an 8-speed gearbox, the very intelligent Q4 AWD, and a torque vectoring system for a stabilized and altogether exciting drive.
This very luxurious cabin has spacious seating for five, and the new 8.4" touchscreen is governed by a sensibly-placed central control knob, featuring Android Auto as well as world-class Bowers and Wilkins Premium Sound. During your commute or weekend excursion, you'll really notice how the active-air suspension constantly works overtime to aide you: five ride heights and six levels of capability will be accessible for you to conquer any river, ridge road, or busy thoroughfare you choose to navigate.
Right here in St. Louis we have cool places like Upper Limits Rock Gym where you can learn the craft of climbing in a controlled environment before heading out into the wild. The Levante would be the perfect choice for a vehicle to take on an excursion like this, opening up the outdoor possibilities for you with an offering of dazzling delivery and impeccably-ranked interior. Our sales and service staff are standing by to help with your selection, and we are excited to offer the Levante as part of our 2017 lineup.
Offering 5-star cuisine and accommodations, a truly eclectic blend of culture, and pinnacle icons in the fashion industry, The Big Apple is most certainly a suitable location to unveil one of the hottest and most detail-driven automobiles of the year. The first look and debut of the Ghibli Nerissimo in April at the New York International Auto Show evokes a somewhat rawer form, and pleasant edginess with a perfectly-toned black cloak. Its name comes from the Italian words for "extremely black", and spectators were able to marvel a bit during its front-running appearance at the Javits Center for the show.
Only 450 of the Nerissimo editions will be produced for North America, a true statement in itself of rare appeal and distinct class. There will be numerous types of availability for the Nerissimo: Ghibli, the Ghibli S, and Ghibli S Q4. Among all of the standout trademark Maserati features are 20-inch Urano wheels, black door handles, immaculate black window trim, and black grille features. At first look of the interior, you immediately notice its domineering formality: just like the appearance of streets after rain, the entire vibe of this Maserati offering is astutely dangerous as well as exquisite.
Every model will include 20-inch Urano wheels with a glossy black finish, dark mirror interior trim, sport seats, and a unique sport steering wheel. Front and rear parking sensors will be available to assist with your task of getting in and out of your spot, along with front and rear parking sensors. The Ghibli S and S Q4 versions will also be equipped with Harman Kardon stereo systems: known to be king of digital processing for audio products, they were the first to develop a compact disc recorder with 4X high-speed dubbing.
On the center console of each model, you'll find a badge that highlights the incredibly limited-edition sentiment of this release, and the fact that it is one of only 450 in existence. As far as what's under the hood, the Ghibli features the highly-accomplished, Twin-turbo-charged 3.0-liter V6 Engine, that is Ferrari-built and just what any gearhead with top-notch taste would desire. Anyone with a penchant for speed can select the mass-produced vehicle of their choice, and absolutely get a rig that will stand with the best of them when the unofficial flag drops. Obtaining a vehicle that is crafted by those in the business who spend the most time possible kicking around and perfecting an idea should peak your interest right away.
This is also easily the most accessible Maserati, with pricing well below the $80,000 mark, and a presence that you're going to be excited about easing into once you see it for yourself. One of our tech experts joked that "This is what it looks like when the fantasies of movies such as 'Dark Knight' collide with the more refined elements of vehicles light years better than the Challenger". Come see this awesome new car soon, and pay us a visit right here in St Louis at Jim Butler Maserati, where we are standing by to help with anything from regularly scheduled maintenance to major vehicle repair!
Drivers in the St. Louis Metro have many different choices, and it is always a very distinct individual that gravitates toward the very higher end. There are some people out there that can get complete satisfaction with their vehicle choice of product line that is a bit mundane, and similar to what you see nearly everyone driving on the road. Here at Jim Butler Maserati, we proudly help our valued customers get behind the wheel of a world-class brand that was developed in Bologna just over a century ago. Timeless Italian style is what our customers are looking for, and when it comes to the SUV category, you have a bit different of an animal to contend with.

It's understandable that blending these high-profile characteristics need to resonate nicely inside the frame of the vehicle as well as out. Everyone that is packing their bags to exit on the 44 or 270 for greener pastures (literally) away from the city may all want different components in an SUV. In essence a vehicle to tote around your pack in and also accomplish the solo A to Z, the signature status of the Maserati had to blend just right with the brute force of a hauling vehicle to keep its class. The Levante S behaves quite dominantly in Sport mode, when the low rumble morphs into an all-out growl, and starts to develop a temper. This is a Ferrari-built twin turbo V6 engine inside, and it feels genuinely special when put to the test. You're going to simply have an all-out riot when cruising around the St. Louis Metro or beyond with an arsenal of 424-horsepower potential, and not encounter any trouble "moving it right along".

The very unique look is characterized by a long and creased hood, fenders that bulge out quite a ways, and head-and taillights that complete the job of emulating a very luxurious feel. With a shark-tooth grille that is nearly making a nasty face at you, this SUV does not sacrifice sports-car traits to keep its appearance in line. What you are getting here is truly a vehicle that is a world of difference from something like the Durango: to say that it still feels pleasantly small is an understatement. We're not talking about a dose of mini-car madness that makes you feel claustrophobic, but a finished product that appears just as we were shown the future of autos would.

Inside the cabin of the Levante S, the staunch brown leather is very supportive yet classy, and the door pulls are blended into the trim with true Maserati flair. A spacious cargo hold and plenty of leg and headroom are traits that consumers want most, and the Levante S offers them up in full. Another feature that excites us is that this is generally the first Italian brand that has completed the task of making an SUV in modern times. It conveys elegance well, and those who have test driven it feel that they definitely had their hands on a product that the manufacturer tested painstakingly, and for the entire distance, "got right". We have been consistently proud to back the icon brand that can list developing fifteen GranTurismo race cars under its accomplishment bracket, and invite you to stop in and see just how awesome every aspect of the current year's product line is shaping up to be!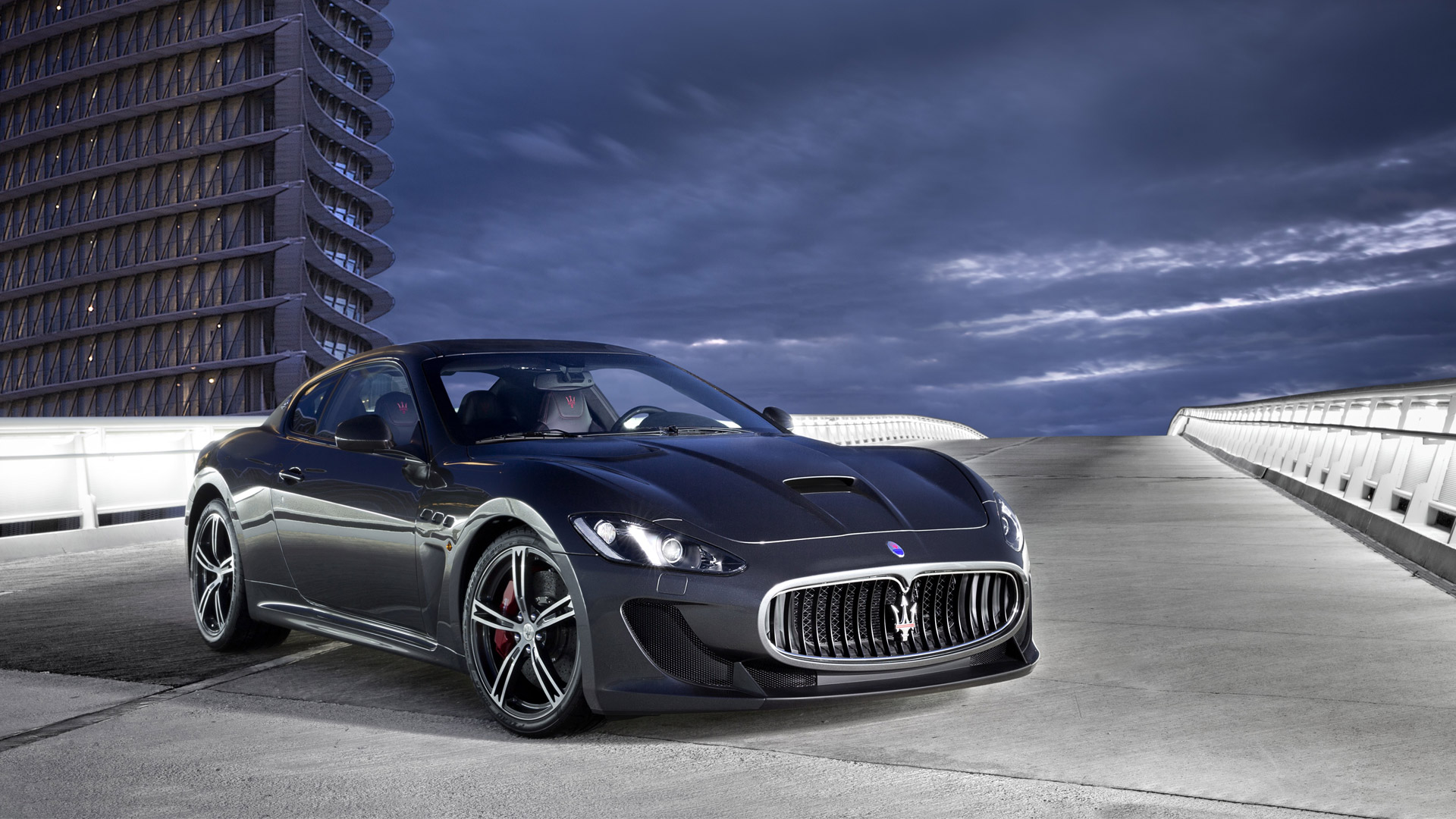 It's time to make every drive an unique experience with the 2017 Gran Turismo. It's more than a car it's a masterpiece. The seductive exterior and the voice of the V8 engine will turn heads on the streets of St. Louis.
The Gran Turismo performance is powered by a 454 hp, 4.7-liter V8 engine. As the needle approaches the redline the truly fearsome roar of the engine comes alive. The exterior sublime silhouette matches the luxury of the interior. The interior will forever redefine ground touring. The Gran Turismo offers comfortable sport seats that are upholstered with the finest Italian leather. At Maserati safety is always a priority; standard safety features on the Gran Turismo includes the Maserati stability program and highly effective, Brembo brakes.
Want to let loose? Check out the convertible Grand Turismo! Visit Jim Butler Maserati today to check out this beauty! http://bit.ly/2n22A9c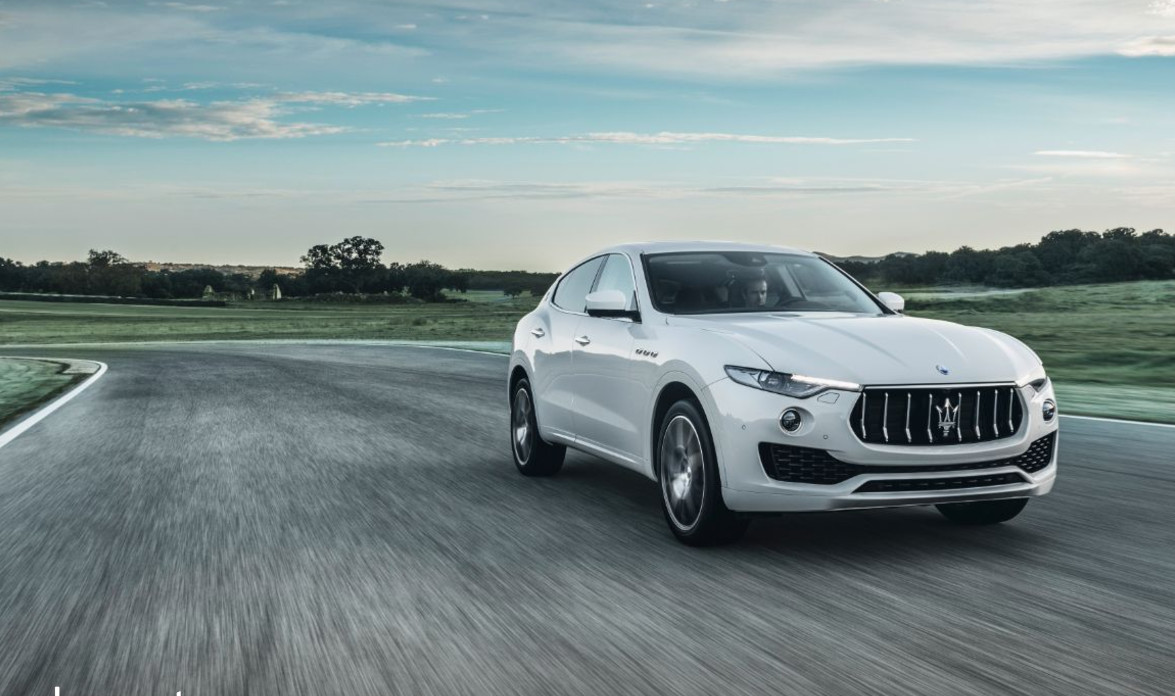 Like the Mediterranean wind after which it is named, the Levante goes from mild to gale force strength, with the power to master any situation effortlessly. Plus the Levante has technology and safety features that will impress St. Louis drivers.
The Levante is both luxurious and adventurous; no matter where you go it is always in its element. It delivers the most outstanding performance even under the most extreme conditions. Equipped with an 8-speed gearbox, Q4 AWD and torque vectoring system, the Levante comes standard with advanced active-air suspension, Maserati Skyhook system and shock absorbers to withstand any terrain. With the most advanced next-generation safety systems the Levante will to keep you and your passengers safe. Special features include six dual stage airbags, adaptive cruise control, ADAS technology, rear cross-path/blind spot detection and more!
To experience the power and strength of the Levante for yourself, visit Jim Butler Maserati's new location at 3050 S Hanley Road in Maplewood, MO!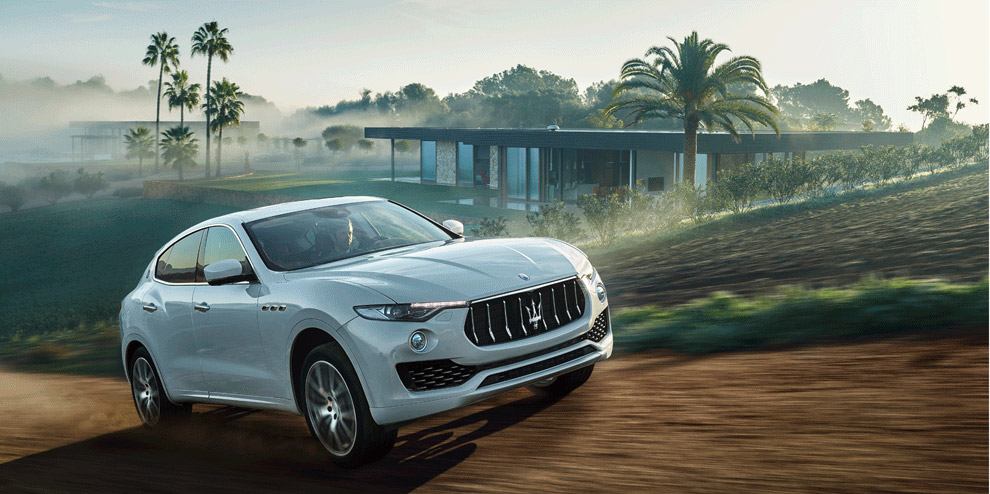 Maserati is officially stepping into the premium SUV game with its 2017 Levante later this year. Since the company's establishment over one hundred years ago, this will be the first-ever SUV to represent the Maserati brand, and not to mention, the first luxury-grade Italian SUV since the disappearance of the Lamborghini LM002 in 1993.
The name "Levante", referring to a warm wind that has the ability to change from a gentle to gale force in an instant, regardless of the time of year, day, or hour, represents this genuine and unique product to a T. Typical of the Maserati brand, this car is sleek, bold, and sculpted with subtle details in all of the right places. Built on the Ghibli architecture, the Levante has been designed to handle both on and off road performance, with an adjustable Air Ride suspension.
As far as the engine goes, the Levante is powered by a 3.0 liter, V6 Twin-Turbo (a second generation version of the Ghibli). These Ferrari-built engines make 345 hp in the Levante and 424 hp in the Levante S. The 345 hp Levante will accelerate from 0-60 in 5.8 seconds, topping at 156 mph and the 424 hp Levante S will reach 60 mph in 5.0 seconds, topping at 164 mph.
With a spacious interior, this vehicle has many features, such as an 8.4 Touch Screen with Navigation, 8 speakers connected to a Base Audio System and two premium sound options- one by Harman Kardon and another by Bowers & Wilkins, wipers with a rain sensor, keyless entry and start, and the option of silk-enhanced upholstery.
For more updates on the 2017 Maserati Levante or to reserve yours today, visit our website or stop in Jim Butler Maserati in St. Louis, MO!
Motor Trend recently took the 2017 Maserati Levante for a spin. Jim Butler Maserati couldn't contain their excitement after reading Motor Trend's first drive review. The driver begins by stating that they felt like they were parked while driving 110 miles per hour, because the Levante felt "solid as a rock".
The 2017 Maserati Levante, Maserati's first ever SUV, made its debut at the Geneva Motor Show last month. Under the hood sits a twin-turbo, 3.0-liter V6 that can either come in a 345 horsepower and 369 pound-foot of torque or the 424 horsepower and 428 pound-foot. The engine is routed to a ZF 8-speed automatic transmission and all-wheel drive. The Maserati Levante can go from 0-60 miles per hour in 5.8 and 5.0 seconds.
The first drive review stated that while driving 110 on the Autostrada del Sole, there was a BMW X5 M that blew past them. The driver buried their right foot and the Levante was well over 160 mph and breezing past the X5 M.
The Levante has an aluminum front subframe, shock towers, and frameless doors. This results in a body-in-white that is 330 pounds lighter than the Ghibli's body and 20 percent stiffer. Like the Ghibli, the Levante drives lighter than it is. There is a 50/50 weight distribution, which is no easy trick for a front engine.
Although it is estimated that less than 1% of Levante owners will actually take their vehicle off the road, Maserati made it very capable in the dirt. Maserati believes that owners will like knowing they can take their ride off-roading, and the Levante can do that with its sophisticated air prings and an automatic electronically locking Torsen differential. The springs feature 3.3 inches of total height adjustment, and the two off road modes will allow for 1.6 inches of extra height. There is also a parking lot setting that will drop the Levante an additional 0.4 inches for easy loading.
Jim Butler Maserati is very excited for the Maserati Levante to hit the dealership lot come fall 2016. Adding a SUV to the Maserati lineup will make a great addition to the team.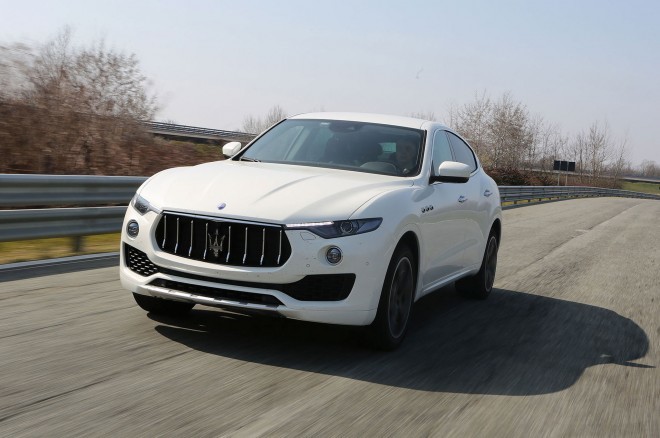 The highly anticipated 2017 Maserati Levante is making its first ever appearance in the United States. The name Levante is inspired by a type of warm Mediterranean wind that can change from gentle to a strong force in an instant.
Earlier this month, the first ever Maserati SUV, made its appearance at the Geneva International Motor Show. Now the Levante will be coming to the New York Auto Show on March 23rd for its official U.S. debut. It is 100% Maserati and 100% SUV, a genuine 'Made in Italy' product.
The 2017 Maserati Levante is powered by a 3.0-liter V6 Twin-Turbo gasoline engine built by Ferrari. The engine comes with a 345 horsepower (Levante) or the 424 horsepower (Levante S). All engines have the Q4 all-wheel drive system, which transfers torque between the axles instantaneously when required. The all Levante models have an 8-speed automatic gearbox, with an integrated Start & Stop System. The Levante accelerates from 0-60 mph in 5.8 seconds, with a top speed of 156 mph. The Levante S accelerates from 0-60 mph in 5.0 seconds, with a top speed of 164 mph.
High-tech features include forward collision warning, adaptive high beam headlights, brake pressure assist, lane departure warning, a surround view camera, hill descent assist, automatic windshield wipers, a blind-spot monitor, and parking assist. On the more low-tech front, but a definite safety necessity, the Levante comes equipped with six airbags.
Jim Butler Maserati is a St. Louis Maserati Dealership located at 3050 S Hanley Rd, Maplewood, MO 63143 serving Kirkwood and St. Louis, Missouri. Our new vehicle line-up includes: Maserati Ghibli, Maserati GranTurismo, Maserati Levante, Maserati Quattroporte. We buy and sell quality pre-owned vehicles and offer a nice selection of used cars, trucks, SUVs, CUVs and vans. Our parts & accessories center sells Maserati parts and accessories. Jim Butler Maserati can service and repair all Maserati models as well as most other brands of cars.
Please note:
Many of our inventory photos are stock photography. Actual colors, options and accessories may differ on the specific vehicle you have selected.
Sales Hours
(855) 575-8892
| | |
| --- | --- |
| Monday | 9:00 am - 8:00 pm |
| Tuesday | 9:00 am - 6:00 pm |
| Wednesday | 9:00 am - 8:00 pm |
| Thursday | 9:00 am - 6:00 pm |
| Friday | 9:00 am - 8:00 pm |
| Saturday | 9:00 am - 6:00 pm |
| Sunday | Closed |
Service Hours
(314) 376-2911
| | |
| --- | --- |
| Monday | 8:00 am - 5:00 pm |
| Tuesday | 8:00 am - 5:00 pm |
| Wednesday | 8:00 am - 5:00 pm |
| Thursday | 8:00 am - 5:00 pm |
| Friday | 8:00 am - 5:00 pm |
| Saturday | Closed |
| Sunday | Closed |
Parts Hours
(314) 376-2911
| | |
| --- | --- |
| Monday | 8:00 am - 5:00 pm |
| Tuesday | 8:00 am - 5:00 pm |
| Wednesday | 8:00 am - 5:00 pm |
| Thursday | 8:00 am - 5:00 pm |
| Friday | 8:00 am - 5:00 pm |
| Saturday | Closed |
| Sunday | Closed |